Simoncu

Posts

: 16


Join date

: 2019-05-15

Trying to send new mail from the "dominant" account, and all mails are in the out box, but flagged (little red flag) I have the message :
Task: Sending 'test' [<Dominant>]
Status: Not Completed
Details: Connection with host server 'smtp.gmail.com' established successfully. Round-trip time: 16ms
Completed: 4&
Time: 19.02.2020 07:51:56

Help !

I'll add one topic, I have a Swiss French keyboard, and when I try to type @ (AltGr-2) I have the junk folder that opens (Ctrl-2 works as well)
Wed Feb 19, 2020 10:07 pm
Make sure that your firewall/anti-virus app is not blocking Pandora. It's usually under Settings/Applications > Pandora > Allow All Inbound/Outbound traffic.

Also, make sure SSL option and Port number under Pandora's Perosnalities/Dominant/Properties/Sending Mail are matching specs that you got from your ISP/email provider.

Simoncu

Posts

: 16


Join date

: 2019-05-15

The thing is that I didnt't change anything on the Pandora side. All settings are the same, I didn't' change anything, and yes, I thought about the firewall, so I disabled all 3 instances, and it's the same. No out.
The settings are as google saiy it should be.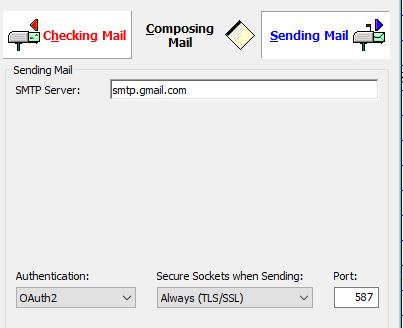 I don't know what to do... I switched from eudora because of this OAuth2 stuff, but I'm disappointed.
That's a wrong port number, set to 465
Simoncu

Posts

: 16


Join date

: 2019-05-15

right, I have no idea wha the port changed, in fact I put the "if available" with the port 587 and it worked, I put back "always" and it automatically changed the port to 465... and that worked, sorry for the stupid questions, I worked in IT 35 years, but I still have some noob questions that I should answer myself ;-)
Thanks for the answer anyway.
Not a problem Simoncu, thank you.

Yeah port# 587 was used around the time when STARTTLS was the latest thing, and they just kept it, and assigned 465 for Always SSL. So:
STARTTLS: 587
SSL (Always): 465

Permissions in this forum:
You
cannot
reply to topics in this forum